Book Reviews

Despite the wealth of information available to family historians on the Web, books are still a needed and valuable resource. The JGS-Montreal web site features Book Reviews to help guide you to the real gems that are available.

Do you have a favorite book? Perhaps you would like to contribute a short review.

JGS-Montreal Cookbook

The foods we love often strenghten our ties to parents, grandparents and even ancestors we never met. The smells of food from our childhood can bring back vivid memories. Members of the Jewish Genealogical Society of Montreal have shared their most loved recipes (and often their background) in our COOKBOOK.

Guide to Marriage Records in Quebec

A guide to Religious, Civil and Health Department marriage records in Quebec covering 1841 to present.

Canadian Naturalization Records – 1914-1951

Phase I of this project digitized and indexed 200,000 1914-1932 Canadian Naturalizations (both Jewish and non-Jewish). The index is online at the Canadian Genealogy Centre's (CGC) web site operated by Library and Archives Canada. This index, the result of thousands of hours of work by JGS-Montreal volunteers, allows searching for Canadian naturalization by name with the information returned including city and date of naturalization, occupation, and naturalization certificate number. Using this information, it is often possible to positively identify ancestors and order their complete naturalization file. The story of how this project started was published in Avotaynu.
Phase 2 of the project to index 1932-1951 naturalizations is in progress - totalling about 400,000 records. All of the printed images have been digitized and effective October 15, 2010 can be searched by date at the Canadian Genealogy Centre. Indexing the 400,00 records by JGS-Montreal volunteers is in progress.
See our research guide to learn how to search and order naturalization records.


An edition of the

Montreal Forum

is available.

Unfortunately, due to other commitments, our editor had to resign last year. However, other projects notwithstanding, she has managed to put out a final edition.

Montreal and Quebec Province Vital Records

Several years ago, the JGS of Montreal indexed over 75,000 vital records for the Jewish Community in Montreal and Quebec - part of the "Drouin" collection of vital records. Copies of these records are available from the Society. Read a description of the project and review the Surname List.
Our volunteers have almost completed a detailed review of those records and have added the event date, the parents' names and place of birth where noted in the records. The expanded and supplemented index will greatly increase our ability to locate family.

We have also purchased indices to all Quebec marriages and deaths for 1926-1996.

Together all of these resources have now given us an unprecedented capability to research Jewish families and re-unite long-lost relatives.

Montreal Cemetery Indices

The Baron de Hirsch Cemetery Inc. and Affiliates have graciously provided the full database of over 54,000 burials at the de la Savane cemetery and 6,500 burials at the Back River Memorial Gardens Cemetery. The Jewish Genealogical Society of Montreal has submitted them to the JewishGen Online Worldwide Burial Registry (JOWBR) and they are online. A Surname List for all burials at the Back River is available.
Thanks to several members of our Society, all tombstones at the Back River Cemetery have been photographed, and pictures were submitted to JOWBR in 2015, and updated in early 2016.
In late 2015, four sections of Eternal Gardens Memorial Park were photographed and indexed by Society members. Over 1000 burial records were submitted to JOWBR.
The small cemetery in Ste. Sophie, Quebec has been fully indexed and is available with tombstone photos on JOWBR
All JOWBR records and photos are also searchable at no cost on www.ancestry.ca and www.ancestry.com.
Work is in progress to make indices available for several other Montreal Jewish cemeteries in the very near future.


Other Indexing Projects

A number of other indexing projects are underway, some in conjunction with the Canadian Jewish Congress Charities Committee National Archives. They include the indexing of:

Ancestry.ca

Ancestry.ca has a wealth of information for family researcher, but it can be expensive. However, the Jewish Public Library has Ancestry available in the Library at no charge to users!


The Jewish Genealogical Society of Montreal funds its research and indexing projects as well as its lecture series through membership fees and charges for vital records and other services. Donations in support of our work are always welcome. And please see the sidebar at the right for how you can help at absolutely no cost.




Do you buy things online (books, CDs, DVD, clothes, shoes, cameras, kitchen appliances, video games, gift certificates and more)?

Do you want to help JGS-Montreal indexing projects at no cost or effort?

Click HERE to find out more about our Amazon shopping programs.



Or start shopping now
Amazon.ca
Amazon.com

MEETINGS
Meetings of the Jewish Genealogical Society of Montreal are generally held on the third Monday of each month excepy July. Meetings are generally held in association with the Jewish Public Library. Guests are welcome at all meetings. Most meetings are held in the Federation CJA Building which also houses The Jewish Public Library, The Montreal Holocaust Memorial Centre and the Gelber Conference Centre.


SUNDAY MORNING FAMILY TREE WORKSHOPS
The Jewish Genealogical Society of Montreal offers Sunday Morning Family Tree Workshop in conjunction with the Jewish Public Library of Montreal. Experts in the JGS of Montreal are available to answer research questions from society members and the general public on a one-on-one basis. There is no charge to attend. Workshops are normally held on the first Sunday of each month from October to June (except when there are conflicts with Jewish holy days) from 10 am to noon at The Jewish Public Library.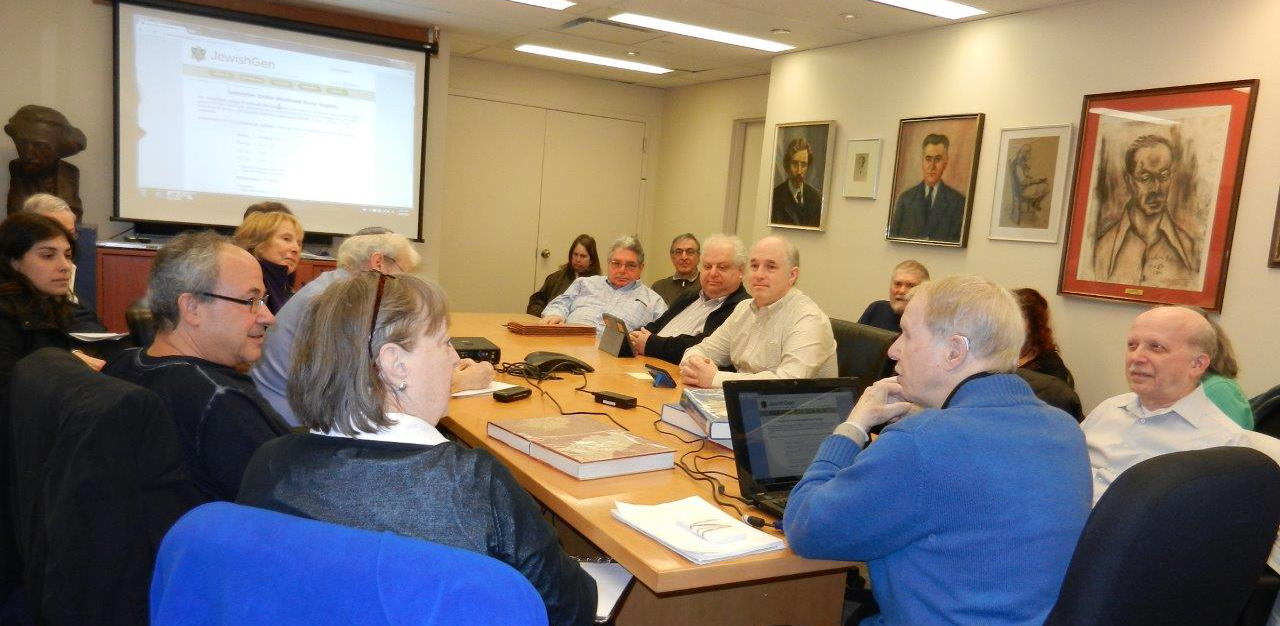 JGS of Montreal Sunday Morning Family Tree Workshop
---
SOCIETY OBJECTIVES
To promote awareness of the resources available within and beyond your own community for tracing Jewish ancestors.
To encourage the sharing of research techniques.
To disseminate information on genealogical research to family historians and professional genealogists alike.
To foster ongoing interest in Jewish heritage and provide learning experiences related to Jewish family history and Jewish life in different regions and periods.
MEMBERSHIP BENEFITS
A networking forum for personal research and a bridge to Jewish genealogists around the world.
Monthly meetings: featuring guest speakers, workshops, field trips, and hands-on research.
Access to JGS-Montreal databases and experts beyond that offered to the general public.
RESEARCH SERVICES
On-site visits are required at most research venues in Montreal. The JGS-Montreal will help any researcher with Montreal or Quebec family - contact us at vital@jgs-montreal.org. There is no charges for searches of our Drouin records, and we will always try to offer useful suggestions for future research. Of course, donations are welcome.

For more extensive research, some of our members will take on research assignments and we can also recommend other local professional genealogists. Please send inquiries to vital@jgs-montreal.org.

---
| | |
| --- | --- |
| The Jewish Genealogical Society of Montreal serves a city with one of the oldest Jewish communities in North America. The first Jewish settlers arrived in 1760 and the first synagogue (in Canada), the Shearith Israel, was founded in 1768. | Today, Montreal has a thriving Jewish community of over 100,000. It is in honour of these forebears and those who came after that we introduce our society and research in Montreal and Quebec to the Jewish genealogical community around the world. |
---
HOW-TO GUIDES AND SEARCH ENGINES
Are you researching your family in Montreal, Quebec, or Canada? The links that follow may help you.

OTHER LINKS
MONTREAL AND REGION SYNAGOGUE WEB SITES

For a full list of synagogues, see the Canadian Jewish Congress Charities Committee National Synagogue Directory.

In the following list, if a synagogue site includes their history, there is a direct link to it following the synagogue name.

Growth of the Montreal Jewish Community


Between 1760 and 1763, perhaps up to 20 Jewish families spent time in the Montreal area, about half of whom may be considered long-term residents. By 1768, when about a dozen families founded the first Jewish congregation in Canada, they chose the Sephardi minhag and the name Shearith Israel. The congregation remains to this day a vibrant component in the life of Jewish Montreal.

The Jewish community grew slowly: 107 by 1831, and 451 by 1851, etc. The next 100 years saw a big increase to 83,458. The new arrivals were mostly Ashkenazim from Europe, many pogrom and some Nazi escapees. The years from 1951-71 saw another increase: many were holocaust survivors, but there were also a large number of Sephardim from North Africa and the Middle East. Fluctuations over the next quarter century have now stabilized at just over 100,000.

Source: Joseph, Anne. Heritage of a Patriarch: A fresh look at nine of Canada's earliest Jewish families. 1995. Sillery (Quebec): Éditions du Septentrion.

---