Jewish Genealogical Society of Montreal

Meeting and Workshop Schedule
Sub-sections:
Monthly Presentations
Our monthly meetings feature presentations by experts in a wide range of subjects related to Jewish genealogy. Unless otherwise noted, all Society meetings are held at 7:30 pm at:

Miss a meeting? Visit the JGS-Montreal Meeting Archive
poster
Monday
2017 Aug. 14

My Trip to Rimpar, Germany - The Town of Our Schwab Ancestors

-

Andreas Schwab

After two decades of research into Jewish genealogy, I finally made it to the town where my Schwab ancestors came from.

Rimpar

is a town of 7,500 inhabitants, 10 km north of Würzburg and 125 km east of Frankfurt. My sister and my brother-in-law came with me. We had a guided tour by Hannelore Mintzel, a retired high school principal who devotes much of her time to study and promote Rimpar's rich Jewish history. In my speech, I will talk about what I saw when I was there, and what I found captivating about Rimpar in particular and about rural Bavarian Jews in general.

poster
Monday
2017 Sep. 11

Cornwall, Ontario

- Sara Lauzon, "the Little Historian", Dr. Neil Davis, Cornwall Comm. Hospital & Rabbi Mordecai Bulua

Join us in learning about the people, places and events of the Jewish Community of Cornwall.

poster
Monday
2017 Oct. 16

Unexpected Encounters in the Grand-Motherland

-

Shelley Tepperman

In the fall of 2016, after months of genealogical research, Shelley Tepperman travelled to Poland to visit her ancestral villages of Łagów, Koszary (Iłza) and Iwaniska, and other villages in the Kielce-Opatów region. With the help of an expert guide, she found the land her grandmother's family had lived on for 90 years and people who had known them. Accompanied by a Polish collaborator, she interviewed many young and elderly custodians of Poland's pre-war Jewish past. The encounters were often moving, sometimes hilarious, and full of surprises.

poster
Monday
2017 Nov. 06

My roots trip to Northern Romania and Moldova

-

Harry Bolner

Born in Romania, he emigrated to Israel with his parents in 1951 after the war. Ever mindful of the history of the Jewish people and especially of his own family , he embarked, in February 2017 on a trip to discover more of his roots and his father's experience during the Holocaust (Romania). This trip took him to Israel and from there to Odessa (Ukraine), Transnistria and Chisinau (Kishinev) Republic of Moldova and Romanian Moldova. This presentation will present his surprising findings.

Some sources of information:

poster
Monday
2017 Dec. 11

Jewish Genealogical Research in Germany

-

Roger Lustig

New internet resources for German-Jewish Research: Roger will present and demonstrate some of the most innovative and important new sites, including what to expect and how to avoid pitfalls. A complete list of web addresses discussed will be made available.

poster
Monday
2018 Jan. 08

Annual Film Night

-

Max Beer and Deena Dlusy-Apel

The movies starts at 7:30 pm *SHARP*

"Nobody was Interested, Nobody Asked"

is a documentary film about the Holocaust Survivors who came to Montreal after 1945. Produced by Max Beer and Deena Dlusy-Apel. This film shows how the "GREENERS" were treated by the Jewish population that came to Montreal before the war - the community's attitude to Shoah Survivors. The filmmakers will be with us for a discussion period following the screening.

poster
Monday
2018 Feb. 05

Annual Members-only "Schmoozarama" Get-together Event

Our annual super program - JGS of Montreal Members-only "Schmoozarama" Get-together event: Please note - You must be a paid up JGS of Montreal member to attend this event! Please RSVP as soon as possible.

When: Monday evening, February 05 (from 7:30 to 9:30 pm), we invite you to our informal, fun Annual Schmoozarama coffee and dessert get-together. If weather is bad, then Feb. 12.
Where: 6500 Mackle Road, Cote St-Luc, in the Party Room.

Schedule:

7:30 to 8:00 pm - schmoozing time and desserts, coffee, tea or soft drinks. All refreshments will be strictly kosher.
8:00 pm - members will be invited to give a brief (3-5 minutes maximum) synopsis or update of his or her research (no one will be obliged to speak to the group).

Spouses/partners are very welcome.

There will be a $5.00 admission charge per person.

Please RSVP Wednesday, January 31, to Schmoozarama@JGS-Montreal.org.

poster
Monday
2018 Mar. 05

How to use FamilySearch.org effectively to Find Your Ancestors All Over the World

-

Gary Schroder

(Quebec Family History Society)

They are digitizing the holdings of the Genealogical Library in Salt Lake City - hundreds of millions of new records will be available over the next few years at Family History Centres in the greater Montreal area.

poster
Monday
2018 Apr. 09

The Life and Death of a Ukrainian Shtetl

-

Steven Lapidus

(Institute for Canadian Jewish Studies)

While little documentation exists for many of the small shtetlach of eastern Europe, there were two personal memoirs written about life in my grandfather's shtetl in the prewar and inter-bellum periods. The authors were first cousins and one of them was my grandfather. Both had fled Ukraine in the mid-1920s and settled in Montreal. This talk will illuminate these memoirs and their lives before the destruction of its Jewish community.

poster
Monday
2018 May 07

Annual 3 Presenters

-

Gary Perlman, Neil Davis, Berardo Dimenstein

Three JGS of Montreal Members, each relating his or her start and subsequent research in Jewish genealogical and related pursuits. Come and hear them recount their research experiences, sharing their individual stories, questions, successes & tips.

poster
Monday
2018 June 04

Research Israel Genealogical Resources - Right from your Couch!

-

Daniel Horowitz

(Searching for my Roots)

How to access genealogical online resources and databases available in Israel to find relatives. Overcome the barrier of the language with a basic lesson of Hebrew keywords and the translation tools available to help everybody deal with the vast list of places were you can find information of people that were born, lived or died in Israel.

poster
Monday
2018 Aug. 20
2018 IAJGS Conference in Warsaw, Poland - Report -

Hymie Reichstein & John Diener

The outstanding IAJGS Conference in Warsaw, Poland - what we saw, learned - and what made it different from other IAJGS Conferences
Sunday Morning Family Tree Workshops
Our free monthly workshops allow members and non-members to get one-on-one answers and expert help in an informal setting. We do live searches of a variety of databases (e.g., see our workshop handout of commonly used resources, and many of the resources used have been incorporated into the JGS-Montreal Genealogy Dashboard). Workshops are usually held on the first Sunday of each month except July and August (but check the dates below).
So, bring your data and questions and let's see how we can help each other in doing our family research. We often benefit from hearing how others have discovered and used various resources. You may hear just the bit of information you need to find a missing piece of data.
| | |
| --- | --- |
| 2017 August | No workshop |
| 2017 Sep. 10 | Workshop a week later than usual for Labour Day |
| 2017 Oct. 15 | Workshop a week later than usual for Sukkot |
| 2017 Nov. 5 | Regular workshop |
| 2017 Dec. 10 | Regular workshop |
| 2018 Jan. 7 | This workshop was cancelled. |
| 2018 Feb. 4 | Regular workshop |
| 2018 Mar. 4 | Regular workshop |
| 2018 Apr. 8 | Workshop a week later than usual for Pesach |
| 2018 May 6 | Regular workshop |
| 2018 June 3 | Regular workshop |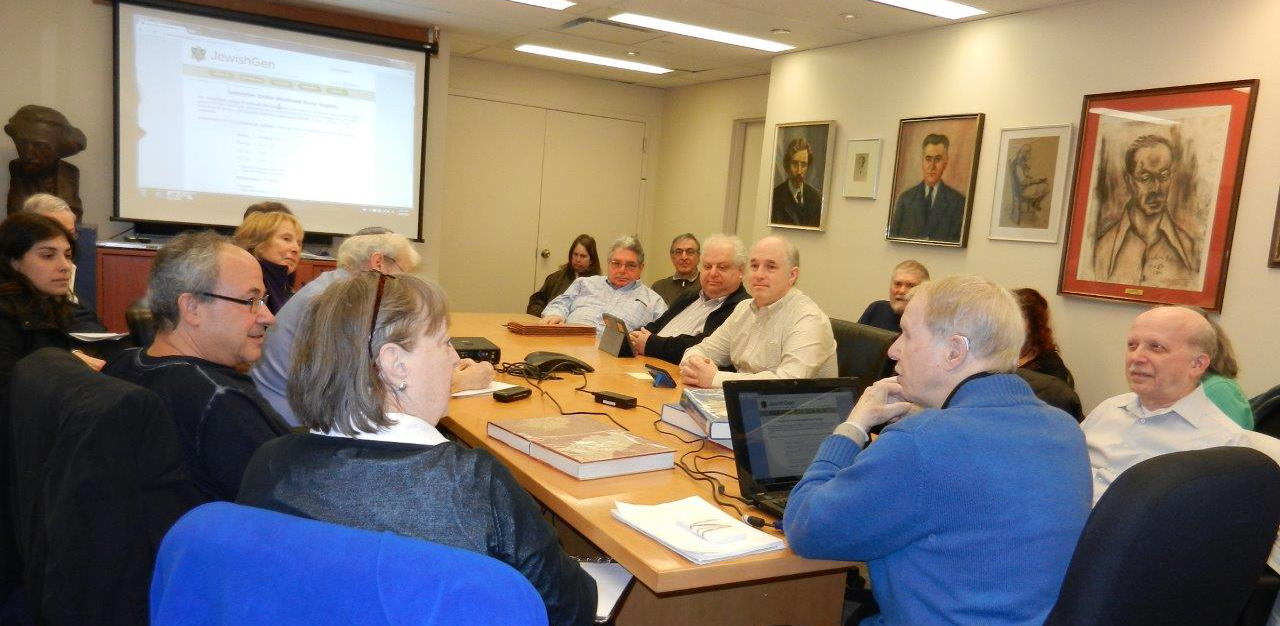 Stanley Diamond, President of JGS-Montreal, leads a workshop in May, 2016