JEWISH VITAL RECORDS RESEARCH IN QUEBEC
 Stanley Diamond, SMSDiamond@aol.com
Alan Greenberg, alan.greenberg@mcgill.ca
Genealogical researchers in Quebec are the beneficiaries of the Province's extraordinary religious and civil records system dating back to 1616. It is not uncommon for families of French Canada to trace their ancestry back to the shores of France as well as document the vast percentage of the earliest forebears' progeny.  Record keeping by the Jewish community started around 1840.
Until late 1992, Quebec was a genealogical heaven - for Jew and non-Jew alike. In September 1992, original records were moved from municipalities, where they had been relatively accessible to Quebec provincial offices. At this point, post-1899 records became effectively sealed. On January 1, 1994, the tightest privacy laws in North America were passed, putting the closure (which had previously just been an administrative decision) into law. For long-time genealogists, the new situation is an irritant, increasing the difficulty of rounding out information about known family members or chasing after remote or parallel branches which sprung up in the 20th century. For new researchers, it is a wall of silence, one requiring ingenuity and perseverance to try to get around or, at best, peek through.
For the majority of Jewish researchers, the 20th century history of their families in Quebec is the only time-period of interest. Most resources described herein are for this period. This document contains substantially revised information previously published in Shem Tov, The Journal of the Jewish Genealogical Society of Canada (Toronto) and the "Montreal" InfoFile on JewishGen.  Readers are urged to examine the section "Alternative Sources for post-1899 Birth, Marriage and Death information." Many are unique to the Jewish community and can provide leads to otherwise unobtainable answers.  
Where are the records?
While the major centres of Jewish life were in the principal population centres of Montreal, Quebec City, and Sherbrooke, until the second world war there were also Jewish families in most larger and many smaller towns around the Province.  If your family arrived before or around the turn of the century, they may have settled in an outlying area and owned the local haberdasher, grocery store or scrap yard.
From 1621 to January 1, 1994, the churches were responsible for registering all births, although starting in 1926, births could also be registered in civil registers. Civil marriages were not permitted by law until 1980.  The churches prepared the death certificates until January 1, 1994. (These are not the same as Burial Permits which are the principal current source of genealogical death information in Quebec.).  The churches prepared two registers each year.  At the end of the calendar year, one register was deposited with the Prothonotary's Office of the Civil Archives (Direction de l'état civil).  The registers are held by this department for approximately 100 years and are then transferred to a Regional Branch of the Quebec National Archives. The same rules applied to Jewish records except that families living in towns without synagogues registered in nearby towns or, in some cases, in Protestant or Catholic registers.
Civil registers of births for Montreal and other cities and towns contain a surprisingly large number of registrations of births for individuals of Jewish descent without synagogue affiliation.  In addition, the City of Montreal civil birth registers contain many re-registrations for records of births which were destroyed by water damage in a fire at the old court house on March 11, 1915.   
Research Guide
The material in this document is primarily related to research of Jewish vital and related records; the focus is on Montreal, home to the vast majority of the Jewish population in this Province.
<![if !vml]>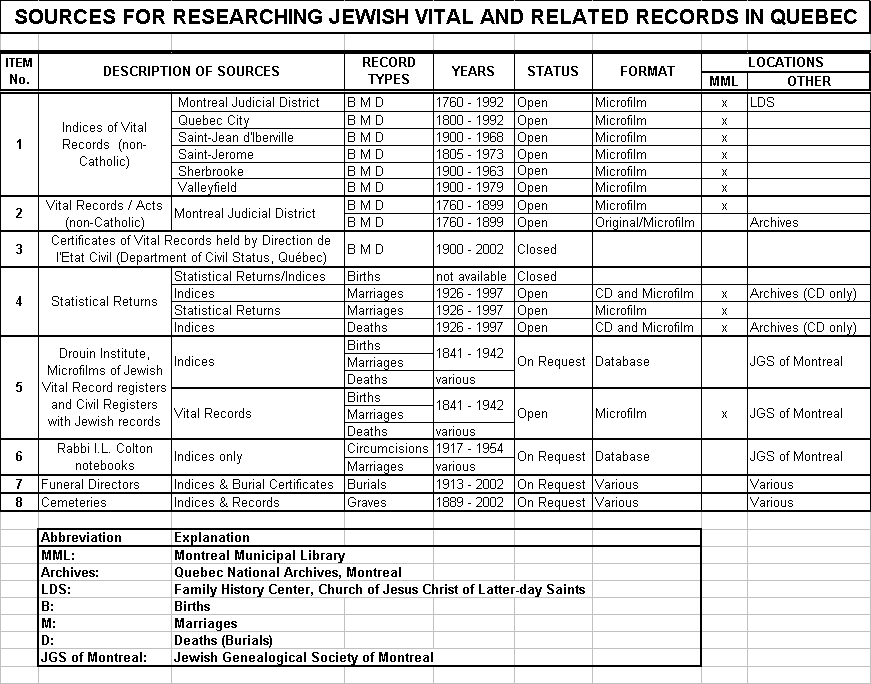 <![endif]>
SOURCES  FOR RESEARCH 
(Item numbers are keyed to above table)
<![if !supportLists]>1. <![endif]>Indices to non-Catholic Birth, Marriage and Death Records (Acts)
Montreal indices include Jewish records.  It is uncertain if the non-Catholic indices of other towns include Jewish entries. Birth index cards (on microfilm) contain full name and year of birth and usually the synagogue where registrations took place.  They may also include parents' names, and mother's maiden name; the information varied from year to year.
<![if !supportLists]>2. <![endif]>Records of non-Catholic Births, Marriages and Deaths, formerly held at local courthouses
<![if !supportLists]>3. <![endif]>Certificates of Vital Records held by Direction de l'état civil (Department of Civil Status)
Post-1899 civil registers were closed to the public as of September, 1992.  While close relatives may be able to obtain extracts of records, these contain sparse information and may be of limited genealogical value. (Prior to 1992, photocopies of the original documents were available.)  Synagogues may have duplicate copies or other documents/files with information, but access is technically restricted for the same reasons of privacy.   The Canadian Jewish Congress National Archives holds the registers of the Congregation Agudath Achim, Sherbrooke, Quebec (1907-1985).
Note: "Death" records are actually synagogue Burial records.  However, the records provided by Direction de l'Etat Civil are called "Death Certificates."
<![if !supportLists]>4. <![endif]>Statistical Returns (referred to as "Vital Statistics" in other jurisdictions)
Records kept by the Ministry of Health and Social Affairs.
<![if !supportLists]>¨ <![endif]>Births: In accordance with privacy legislation, these are not available.
<![if !supportLists]>¨ <![endif]>Marriages:  Depending on the time period, Statistical Returns of Marriage may have more or less information normally included on marriage certificates. 
<![if !supportLists]>· <![endif]>Up to mid-1970's:  Date and place of marriage; full names of bride and groom, occupation, date and places of birth and residence, place of birth of father.
<![if !supportLists]>· <![endif]>Mid 70's to 1993:  Date and place of marriage; full names of bride and groom, names of parents with dates and places of birth.   After 1993, names of parents are not included.
<![if !supportLists]>¨ <![endif]>Deaths:  Indices only available.  Statistical Returns of Death contain "cause of death" and are therefore not available for reasons of privacy.
<![if !supportLists]>5. <![endif]>Drouin Microfilms
Drouin Genealogical Institute, microfilms of Jewish vital record registers of Montreal, Quebec City and Sherbrooke, and Civil Records of Montreal, Lachine, Outremont and Westmount with entries identified as Jewish.  Indices were created by the Jewish Genealogical Society of Montreal in a four-year project launched in February 1998.  The database contains more than 75,000 entries.
<![if !supportLists]>6. <![endif]>Rabbi I. L. Colton Notebooks
From 1917 to 1954, Rabbi Colton was the principal mohel (ritual circumcisions) in the Montreal Jewish community.  His notebooks listed circumcisions, some births of females and marriages (685) at which he officiated.  All 14,000 entries are indices only.  In some cases they duplicate information available in other sources (e.g. Drouin Microfilms).  The entries were integrated into the Jewish Genealogical Society of Montreal's database.  While solely for events at which he officiated, Rabbi Colton's entries from 1943 to 1954 are the only source of indices to Jewish births for this period.
<![if !supportLists]>7. <![endif]>Funeral Directors
See list on below.
<![if !supportLists]>8. <![endif]>Cemetery Records
See list on below.
 LOCATIONS FOR RESEARCH
Montreal Municipal Library (Bibliotheque Municipale de Montréal - Salle Gagnon)
1210 Sherbrooke St. East, Montreal, QC H2L 1L9.  Tel: 514-872-1616,  Fax: 514-872-7643
No mail requests; on‑site research only.   www2.ville.montreal.qc.ca/biblio/service.htm  (French only).
See also Quebec Family History Society website at:  www.cam.org/~qfhs/Conn_Art1.html
Quebec National Archives, Montreal Branch:  (Archives Nationales du Québec, Centre Montréal )
535 Viger Street East,  Montreal, QC H2L 2P3, Tel: 514-873-6000 , Fax: 514-873-2980
www.anq.gouv.qc.ca    Email: anq.montreal@mcc.gouv.qc.ca
Simple research requests (maximum research time of 30 minutes) available upon written request by mail, fax or email.  Mail and fax requests are typically handled more quickly.  
Direction de l'état civil (Department of Civil Status)
2050, De Bleury, 6th Floor, Montreal, QC H3A 2J5, Tel: 514-864-3900, 1-800-567-3900 (Quebec only) 
205, rue Montmagny, Quebec City, QC G1N 4T2, Tel: 418-643-3900, Fax: 418-644-0476
www.etatcivil.gouv.qc.ca/ENGLISH/Default.htm    Email: etatcivil@dec.gouv.qc.ca
Copies of vital records are only available to those named in the documents, their guardians or in the case of those deceased, their direct descendants.
Family History Library
Church of Jesus Christ of Latter-day Saints, 7110 Newman Blvd., Lasalle, QC H8N 1X2  514-367-1615
<![if !supportLists]>· <![endif]>Pre-1900 Birth, Marriage and some Burial records for following synagogues: Beth David, B'nai Jacob, Hebrew, English, German and Polish, Hebrew Russian / Bicker Chalinie, Spanish and Portuguese, Temple Emmanuel. (Some indexed.)
<![if !supportLists]>· <![endif]>Indices to non-Catholic records of Montreal Judicial district as noted in table on Page 2.
Jewish Genealogical Society of Montreal
Email: Info@jgs-montreal.org,  www.jgs-montreal.org
The JGS of Montreal is planning to offer a service to extract and/or make copies of records from the Drouin microfilms.  To be announced at the International Conference on Jewish Genealogy in Toronto.
Funeral Directors
Beth Olam Levayah, Tel: 514-342-8000 or 1-888-342-6565, Fax: 514-342-6910, Contact: Mr. Harold Laxer.  Operated from December 1997 to October 2001. Records for 550 funerals conducted by Beth Olam Levayah available from parent company, Service Corporation Inc. (SCI)
Chesed Shel Emes, 935 Beaumont Ave., Montreal, QC,  Tel: 514-273-3211. Serves Hasidic community.
Paperman & Sons Inc., 3888 Jean Talon St. W., Montreal, QC H3R 2G8 Tel: 514-733‑7101, Fax: 514-733‑1775, E-mail: info@paperman.com,  www.paperman.com  (see also Park Maintenance Corporation under "cemeteries"). Paperman's have handled the majority of Jewish burials in Montreal.  Some records go back as far as 1913.  Paperman's records were computerized in the early 1990s and information from the database will be provided on request.  Contact by phone, fax, email or snail mail.  Follow-up requests for copies of "Burial Permits" should be made by snail mail or fax. 
Wray, Walton  & Wray Funeral Home, 1459 Towers, Montreal, QC  H3H 2E2, Tel: 514-483-2320, Fax: 514-938-4242, Contact:  Mr. Kevin MacDonald. Formed through the merger of several funeral homes.  Records of Joseph Wray Funeral Home, established 1907, include many Jewish burials pre-dating the founding of Paperman's.  Jos. Wray and William Wray Funeral Home, founded 1926, handled Jewish funerals for several synagogues, primarily the Temple Emanu-El and some from the Shaar Hashomayim. The Wray companies were the only other funeral directors to handle a significant number of burials for practicing Jews over the years.   Pre-1995 records are not computerized.  Information in their records varied over the years with the newer ones having more complete data.  The older files are indexed alphabetically by last name and later records are indexed by year and then alphabetically.  Fax or mail enquiries.  An extract of the Burial Permit will be supplied.  In some cases, an actual photocopy of the Burial Permit will be provided.  There is no charge for this service for requests for one or two records.
Cemeteries - Montreal
Back River Cemetery Memorial Gardens, Corner Berri St. and Sauve Street West, Montreal, QC.  First
burial recorded 21 February 1889 (M. Cohen, B'nai Jacob Congregation).  May have been used earlier. See "Baron De Hirsch" for indices to burials. 65 gravestones in Hebrew not indexed.
Baron De Hirsch Affiliated Cemeteries (formerly United Hebrew Cemeteries), Established 1892. Baron De Hirsch also holds the records for the Back River cemetery. 5015 de la Savane, Montreal, QC H4P 1V1, Tel: 514-735-4696, Fax 514-735-4698, Email: bdh@qc.aibn.com.
Eternal Gardens Cemetery, 33 Elm Avenue, Beaconsfield, QC H3Y 2P7, Tel: 514-695-1751
See "Park Maintenance Corporation" for indices to burials up to 1998.
Kehal Israel Memorial Park, 4189 Sources Rd, Dollard des Ormeaux, QC  H9B 2A6, Tel: 514-684-3441, Fax: 514-421-2272.  See "Park Maintenance Corporation" for indices to burials.
Mount Pleasant Cemetery - Beth Israel, 5505 bas St. François, Duvernay (Laval), QC H7E 4P2
Tel: 450-661-7016.  Non-Jewish cemetery with Jewish section.
Park Maintenance Corporation, 6900 Decarie Blvd., Suite 3010, Montreal, QC  H3X 2T8
Tel: 514-738-5356, Fax: 514-738-3244. Has burial indices and reserves for Kehal Israel Memorial Park and Eternal Gardens (up to 1998).
Congregation Shaar Hashomayim Cemetery, 1250 Chemin de la Foret, Outremont, QC  H2V 4T6
Tel: 514-937-9471, Fax: 514-272-6010
Spanish and Portuguese - Shearith Israel, Chemin de la Foret, Outremont, QC,  Tel: 514-737-3695 (synagogue)
Temple Emanu-El Cemetery, 1297 Chemin de la Foret, Outremont, QC  H2V 2P9, Tel: 514-937-3575 (synagogue).  Mount Royal Cemetery offices: Tel: 514-279-7358, Fax: 514-279-0049
Cemeteries, Quebec City and Sherbrooke
Congregation Beth Israel Ohev Sholem, Boul. St. Cyrille & Ave. Bon Air, Québec, QC,  
Tel: 418-688-3277
Congregation Agudath Achim, Rue du Souvenir, Sherbrooke, QC J1E 2L4,  Tel: 819-565-1155.
Jewish Cemeteries of Quebec on the Internet
For more detailed information on the Jewish cemeteries of Quebec, see International Association of Jewish Genealogical Societies - Cemetery Project: www.jewishgen.org/cemetery/northamerica/quebec.html
For driving instructions, go to: www.total.net/~betholam/pages/CemeteryDirections.html
          Alternative sources for post‑1899 Birth, Marriage and Death information
Paid Newspaper Announcements
While Birth and Death announcements were typical, middle and upper class Jewish families also advertised Engagements and Weddings.  These were often accompanied by photographs.  Most Jewish families used The Montreal Star to publicize family events.  The Star ceased publication September 25, 1979 and everything shifted to The Montreal Gazette.  In the earlier years, The Gazette also had some Jewish Birth and Death announcements, and to a lesser extent, Engagements and Weddings, sometimes with photographs.  Microfilms of The Gazette and The Star are available at McGill and Concordia Universities (Montreal) and other major universities and public libraries across Canada, and through inter-library loan. The major repository for newspapers and publications in the Province is the branch of the Bibliothèque nationale du Québec, Aegidius-Fauteux Building (Revues-journaux et publications gouvernementales), 4499 Esplanade Ave, Montreal, QC H2W 1T2, Tel: 514-873-1100.
Canadian Jewish Eagle ("Der Keneder Adler"), a Yiddish daily published in Montreal (1907-1980).  Obituaries are listed on Page one.  Microfilms are available at the Canadian Jewish Congress National Archives (1907-1944) and the Jewish Public Library of Montreal (all years).  For names of professional researchers prepared to study these films, contact Jewish Public Library, 5151 Côte St. Catherine Rd., Montreal, QC H3W 1M6, Tel: 514-345-2627 ext.3001, Fax: 514-345-6477, Email:info@jplmtl.org
In January 2001, in a project funded by Jewish Genealogical Society of Ottawa, the Canadian Jewish Congress National Archives commenced indexing the death announcements. The first stage, from the earliest available year, 1908, until the end of 1926, has 1371 entries. As obituaries rarely appeared before 1917, the majority of the extracted data pertains to this date or later.  To request a search of the index, contact: CJC National Archives and Reference Centre, 1590 Docteur Penfield Ave., Montreal, QC  H3G 1C5, Phone: 514-931-7531ext.2,  Fax: 514-931-0548, www.cjc.ca/archives.html E-mail: archives@cjc.ca
Reference Books (all available at The Jewish Public Library of Montreal)
Family Who's Who (2 Volumes) 
(Published by The Hebrew University of Jerusalem, Vol. 1, 1969, approx. 600 pages; Vol. 2, 1979, approx. 550 pages, hardcover, Printed in Canada)  Alphabetical by surname. 
While intended to record endowments to Hebrew University, these volumes contain names of individuals with spouses, forebears and progeny of several thousand families.  Hebrew Names, places of birth, occupations and Hebrew Tribes are also recorded.  Most entries are from Canada.
Who's Who in Canadian Jewry
                  Gottesman, Dr. Eli. (Published by Jewish Institute of Higher Research, Central Rabbinical Seminary of Canada, 1965.  525 Pages hardcover.)  Alphabetical by surname.
                  Contains biographies of over 2500 Canadian Jewish individuals active in all areas of communal, civic and business life. Includes date and place of birth, home and office address, degrees, religious affiliation, offices held and organizations.  Parents, spouse and children usually included.
A Biographical Dictionary of Canadian Jewry 1909‑1914, From the Canadian Jewish Times
                Tapper, Lawrence F.  (Published by Avotaynu, Inc., P.O. Box 900, Teaneck, NJ 07666) 256 pages.  (US$ 35.00 hardcover).  ISBN 0‑9626373‑0‑0
                 Includes births, bar mitzvahs, marriages and deaths, as well as information concerning communal and synagogue activities of Canadian Jewry.  Extracted from the pages of The Canadian Jewish Times, 1909‑1914.  Also available online, including years 1897-1909 at Ancestry, Inc. <www.ancestry.com>
Copyright © 2002, 2004 by Stanley M. Diamond. Alan Greenberg, Montreal
All rights reserved